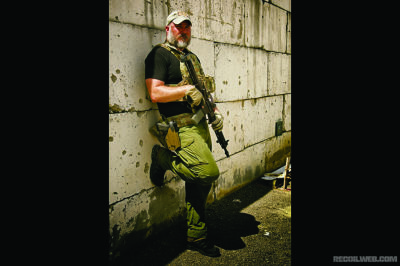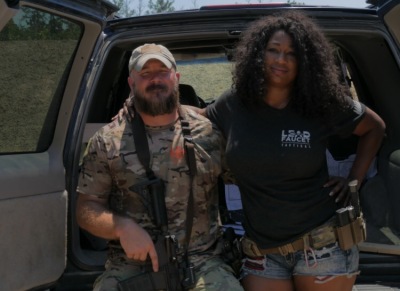 RECOIL Zeroed in:

Dan Brokos

Soldier Systems

Whiskey 5:

Lead Faucet Tactical

At 6-foot-3 and 270 pounds, Brokos is a soldier's soldier, and given that he wrote the Special Forces manual on unarmed combat after attending schools from every major discipline, you'd be correct in assuming that combat is second nature. But now that his beard has more gray than black, it would be a huge mistake to think he's ready for a quiet life of gardening and shuffleboard. According to a long-standing Army SF contact, three SEALs recently found out the hard way to their eternal chagrin that Brokos should not be referred to as "grandpa." Ever.

Read more: http://www.recoilweb.com/zeroed-in-dan-brokos-128861.html#ixzz4yWW6b2bq
​

Lead Faucet Tactical (LFT) offers relevant and realistic gunfighting in a variety of courses focusing around fighting with your carbine and pistol day and night. They offer several shooting and CQB courses for LE, Military and Civilians to increase shooting performance or as Brokos puts it "Take the thinking out of fighting".
LFT has teamed up with Troy Industries and Moser Machine Works for weapon accessories. LFT will be offering several Carbine and Pistol accessories developed over years of experience. Brokos says there was several times he was handed the wrong piece of kit for the job, and wants to make sure guys have good relevant accessories.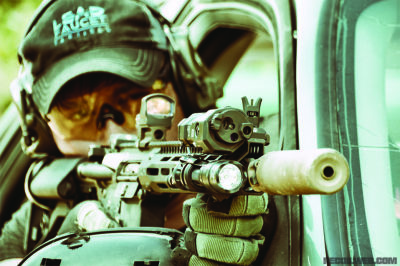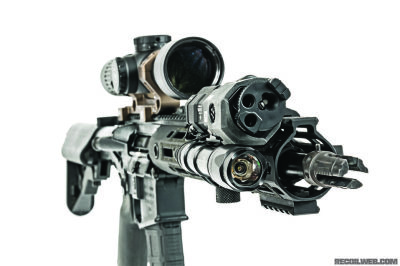 RECOIL - Own the Night

by Dan Brokos

RECOIL - BE MEYERS C1

by Dan Brokos

When the sun goes down and the stars come out, the U.S. military and her allies gain an advantage with their capability to operate and fight at night. Darkness allows us to exploit our enemies' weaknesses using IR lasers in several different operational roles. Used in conjunction with NVDs, their main role is to locate our enemies at night, observe, mark, and navigate. IR lasers are offensive accessories to our weapons, whether we're assaulting a building or moving up a mountaintop;  they allow nighttime target acquisition and rapid engagement without giving away our position to the unequipped enemy.

Read more: http://www.recoilweb.com/own-the-night-129368.html#ixzz4yX4deTvS
​

The MAWL -C1+ is very user friendly to dial in, allowing the user to make their own zero target-type zero, based on vertical and horizontal offset from the bore. So long as you don't run anything crazy like a G36, the manual clearly spells out the procedure and measurements in easy to understand steps. Even Marines can get it lined up, assuming they can stop eating crayons long enough. Once you zero the visible green laser, the infrared lasers are also automatically zeroed, allowing you to get your shoot on prior to complete darkness. There are co-aligned emitters for both the IR pointer and illuminator, so you can be sure the brightest area of the spotlight lines up with the laser, regardless of distance.

Read more: http://www.recoilweb.com/be-meyers-mawl-c1-129553.html#ixzz4yX6pxT4Q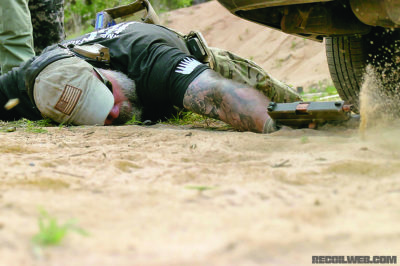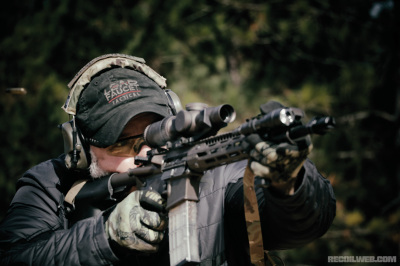 RECOIL - Evolution of the Combat Optic

by Dan Brokos

RECOIL - You don't have a Weak Side

by Dan Brokos

I still hear the word "weak side" on the range, in reference to the non-dominant half of our bodies. Let's dispense with that. We don't have a weak side; we have a support side, period! While we don't have to be fully ambidextrous shooters, anyone serious about weapon skills should be pretty damn close to it. For the jobs out there that rely on combat marksmanship skills, your ability to understand how the support side of your body reacts to the fundamentals, your training regimen, and your equipment are essential tools for survivability and lethality.​​​​

Read more: http://www.recoilweb.com/you-dont-have-a-weak-side-129270.html#ixzz4yX821PGf
​

Over the course of 26-plus years of service, I've witnessed a lot of changes to the main sighting system of the issued long-gun. The rifle has been the primary weapon for the military since the Pennsylvania Rifle (some say Kentucky, but I was born and raised in Pennsylvania and loyalty counts). The rifle then, and still today, is the modern sword and shield. It's the inseparable tool of the soldier on the battlefield, becoming almost ubiquitous in the armory of modern-day law enforcement (LE) and a self-defense implement for the law-abiding citizen.​

Read more: http://www.recoilweb.com/evolution-of-the-combat-optic-135873.html#ixzz5B54Ex0tu
​